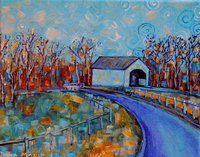 And you!!!
the way to get to the covered bridge when you come into town, is as follows:
Keep going straight through the town and stay on Harrison until you hit 35th (essentially, don't do the left turn thing at the light onto Philomath Blvd that points you towards OSU).
Take a left on 35th Street.
Take a right onto campus way.
You'll pass a bunch of farm land owned by OSU and then you'll run into the covered bridge.
MICHAEL FINN