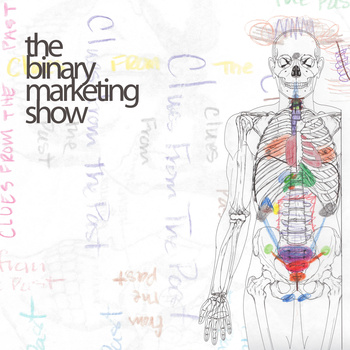 The Binary Marketing Show may come from Brooklyn and do frequent performances at various New York City venues, but this is a band that knows no boundaries – at least sonically and musically. Clues from the Past is their latest project, an EP following their previous full-length releases Destruction of Your Own Creation and Pattern. In short, their genre is easily identifiable as electronic experimental in the likes of Bjork and Animal Collective.
The EP opens up with "am not who", a track that is just barely an actual song. Don't expect to hum along to this one. A lot of glitches, static, radio noise, robotic voices, some random sticks keeping a beat of its own, unintelligible singing along with some lush pads to finish it off.
This is followed by a space-age tune (at least the intro), complete with lightsaber-like lazer sounds. But about forty seconds in, comes a very nice acoustic guitar or possibly bass melody. And you have to appreciate the humorous lyrics, "Sometimes, well, I hate my brain. I just hate the way that it thinks. I hate the way that it feels on my shoulders." The surprise to this otherwise laidback and lazy song came in at about 1:50 when several layers of sound, including some drums and percussion intruded and gave the tune an automatic energy overhaul.
The nicest thing about experimental electronic music is that it has no shortage of surprises. From the horn solos of "thin windows" to the surprising ethereal mood that develops in "unwilling", a track that also manages to somehow slip in a country-ish guitar groove ever so smoothly – well after three minutes into the song. TBMS do this frequently. They have a knack for bombarding the listener with a collage of sounds that are each desperately trying to find their appropriate space in the sonic spectrum, and then all of the sudden, you'll hear some beautiful guitar interrupt to bring some order to the chaos.
Clues from the Past is art in its purest form: it's raw, stands on its own, it's beautiful and ugly at the same time, makes up its own rules on the fly. But whether or not it's music you'll want to listen to for an extended period of time is debatable – at least for the casual listener. However, if you're a connoisseur of experimental music, or perhaps an aspiring artist or producer of such, then by all means, dive into this record; study, listen, and learn.
Reviewed by: Carlito on 2010-10-27
http://www.musicemissions.com/artists/albums/index.php?album_id=12068
The Binary Marketing Show – Clues From The Past (2010) review by Music Emissions